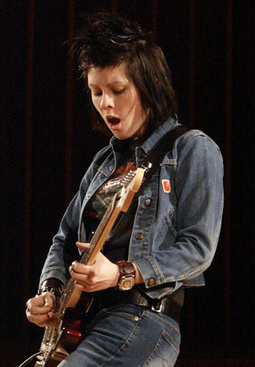 Tegan Rain Quin is the identical twin of Sara Quin.
Biography
Edit
Early life
Edit
She was born September 19, 1980 in Calgary, Alberta. She and her sister began playing guitar and writing songs at age 15.
Musical Career
Edit
Both Tegan and Sara play guitar and keyboard and write songs, most often separately. Whoever writes each song typically sings the lead vocals for it.Throughout most of their career they have performed live as a 5 piece band; while their drummer and bassist tend to change between tours, Since 2004, their live Guitarist/Keyboard player has been Ted Gowans. The band has released six studio albums since 1999, most recently Sainthood in 2009.
Ad blocker interference detected!
Wikia is a free-to-use site that makes money from advertising. We have a modified experience for viewers using ad blockers

Wikia is not accessible if you've made further modifications. Remove the custom ad blocker rule(s) and the page will load as expected.